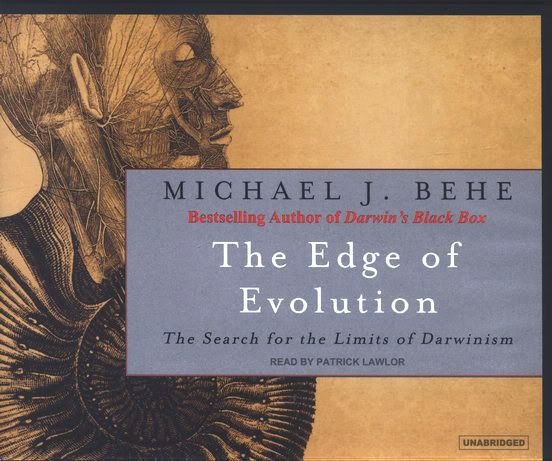 Behe, Michael J. - The Edge of Evolution: The Search for the Limits of Darwinism
In a tour de force of science and logic, the best-selling author of Darwin's Black Box combines genetics, laboratory results, and mathematics to prove, once and for all, that the universe and life on Earth are designed.
Michael J. Behe launched the intelligent design movement with his first book, Darwin's Black Box, by demonstrating that Darwinism could not account for the complexity of biochemistry. Now he takes a giant leap forward. In The Edge of Evolution, Behe uses astounding new findings from the genetics revolution to show that Darwinism is nowhere near as powerful as most people believe. Genetic analysis of malaria, E. coli, and the HIV virus over tens of thousands of generations, not to mention analysis of the entire history of the genetic struggle between them and "us" (humans), make it possible for the first time to determine the precise rates, and likelihood, of random mutations of varying kinds. We now know, as never before, what Darwinism can and cannot accomplish. The answers turn conventional science on its head and are certain to be hotly debated by millions. After The Edge of Evolution, life in the universe will never look the same.
Michael J. Behe is a Professor of Biological Science at Lehigh University, where he has worked since 1985. From 1978 to 1982 he did postdoctoral work on DNA structure at the National Institutes of Health. From 1982 to 1985 he was Assistant Professor of Chemistry at Queens College in New York City. He has authored more than forty technical papers, but he is best known as the author of Darwin's Black Box: The Biochemical Challenge to Evolution. He lives near Bethlehem, Pennsylvania, with his wife and nine children.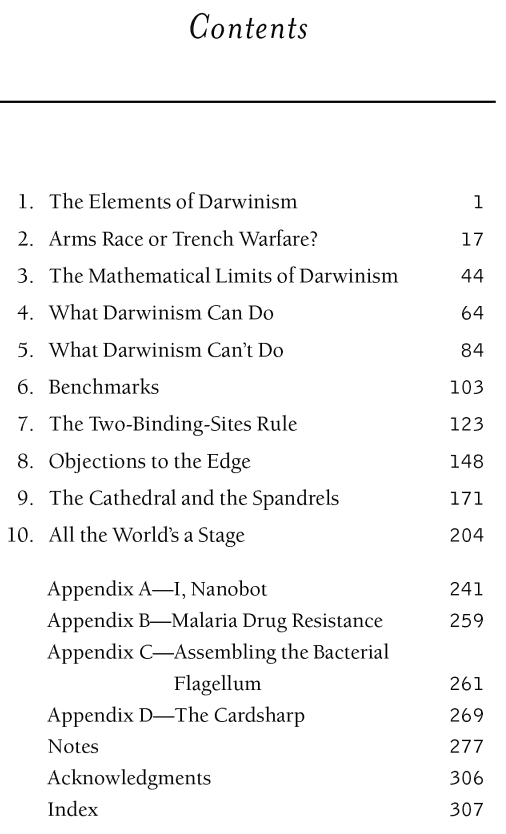 CRITICAL ACCLAIM:
"Until the past decade and the genomics revolution, Darwin's theory rested on indirect evidence and reasonable speculation. Now, however, we have begun to scratch the surface of direct evidence, of which this book offers the best possible treatment. Though many critics won't want to admit it, The Edge of Evolution is very balanced, careful, ¬and devastating. A tremendously important book."
-- Dr. Philip Skell, Evan Pugh Professor of Chemistry, Emeritus, at Pennsylvania State University, and member of the National Academy of Sciences
"In crystal-clear prose Behe systematically shreds the central dogma of atheistic science, the doctrine of the random universe. This book, like the natural phenomena it so elegantly describes, shows the unmistakable signs of a very deep intelligence at work."
-- Jeffrey M. Schwartz, M.D., Research Psychiatrist, UCLA, and author of The Mind & The Brain
"In The Edge of Evolution Michael Behe carefully assesses the evidence of what Darwin's mechanism of random mutation and selection can achieve in well documented cases, and shows that even in those cases that maximize its power as a creative force it has only been able to generate very trivial examples of evolutionary change. Could such an apparently impotent and mindless force really have built the sophisticated molecular devices found throughout nature? The answer, he insists, is no. The only common-sense explanation is intelligent design."
-- Michael Denton, M.D., Ph.D. (Biochemistry), author of Evolution: A Theory in Crisis
"With this book, Michael Behe shows that he is truly an independent thinker of the first order. In a day when the media present all issues in the football metaphor as two teams fighting, the intelligent design debate is presented simplistically as authors who are lapdogs for young-earth creationists versus evolutionists who are lapdogs for atheists. Michael Behe is no lapdog. He carefully examines the data of evolution, along the way making an argument for universal common descent that will make him no friends among young-earth creationists, and draws in new facts, especially the data on malaria, that have not been part of the public debate at all up to now. This book will take the intelligent design debate into new territory and represents a unique contribution on the longstanding question of philosophy: can observation of the physical world guide our thinking about religious questions?"
-- Professor David Snoke, Department of Physics and Astronomy, University of Pittsburgh
Narrator: Patrick Lawlor
Audio format: m4a
Genre: Non-Fiction; Science
Bit Rate: 48 kb/s
Runtime: 11 Hours